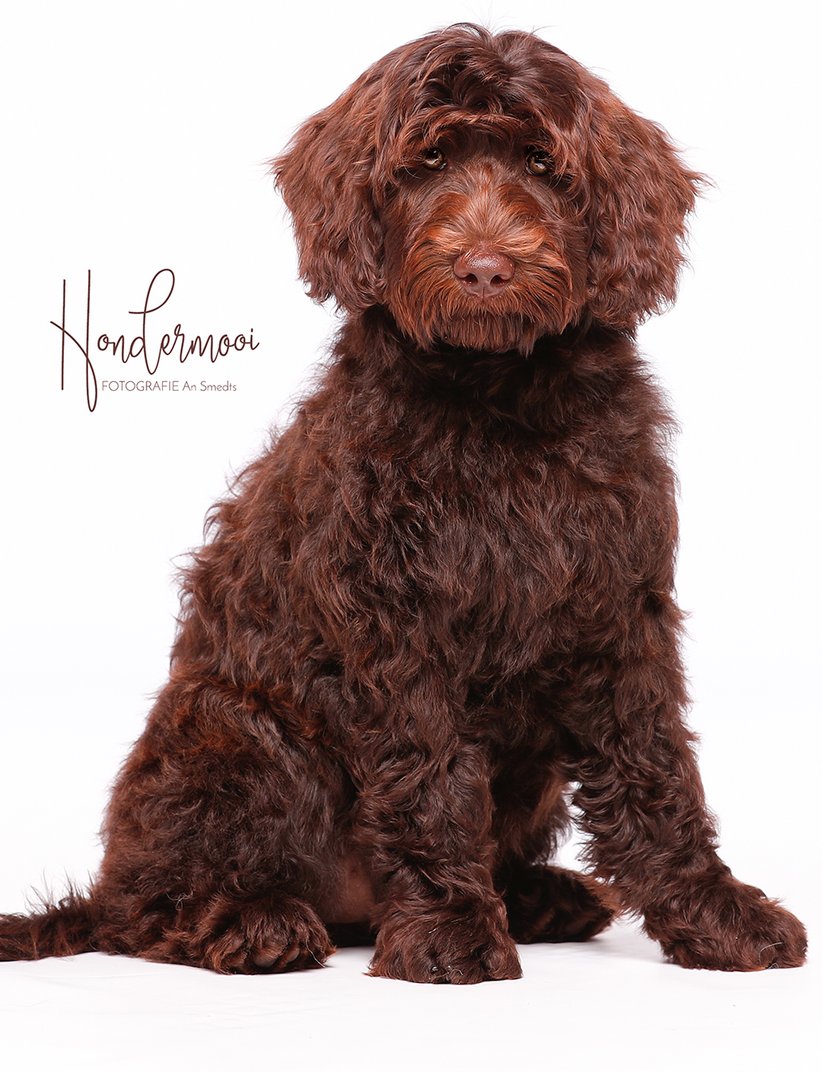 Meet the first ever Australian Cobberdog born in Belgium. I remember how I proudly shared her first babypic with Gabriela, who immediately fell in love as well. Somehow it is very easy to bond with this girl... But of course, her brothers and sisters were amazing to and it would take another 7 weeks before I could pick my keeper out of the litter. Going back and forth between Ariël and Alice, it turned out to be Alice in the end. So very happy and pleased to annouce that this gorgeous Chocolate girl will be retained for breeding! Alice will live in a terrific, loving guardian family from now on, treated like royalty.
My Dog Alice in Wonderland, now called Rosie, is the chosen one of Belle's first litter. She is close to perfection in conformation, beautiful intuitive eyes, a nice wavy fleece coat and an amazing character. We are very happy with our new breeding prospect and want to thank her guardian family for giving her everything she needs and more. Without our host families as treasure keepers, we would not be able to set up such a nice breeding program. So thank you! We hope that Rosie aces health testing as we expect, so she can have her first litter in autumn 2019.
Selected for breeding; why?
We only retain a puppy for breeding if that improves our breeding program. We kept Rosie to continue Belle's line. This also means that Rosie is 'better' (closer to the breeding standard; the ideal Australian Cobberdog) than Belle is. Rosie has a better earset and less heavy ears, a lower tailset, a better backhand and overall conformation, an easier coat and she inherited the best qualities of both her parents in character. Rosie is a very promising young girl; future looks bright!