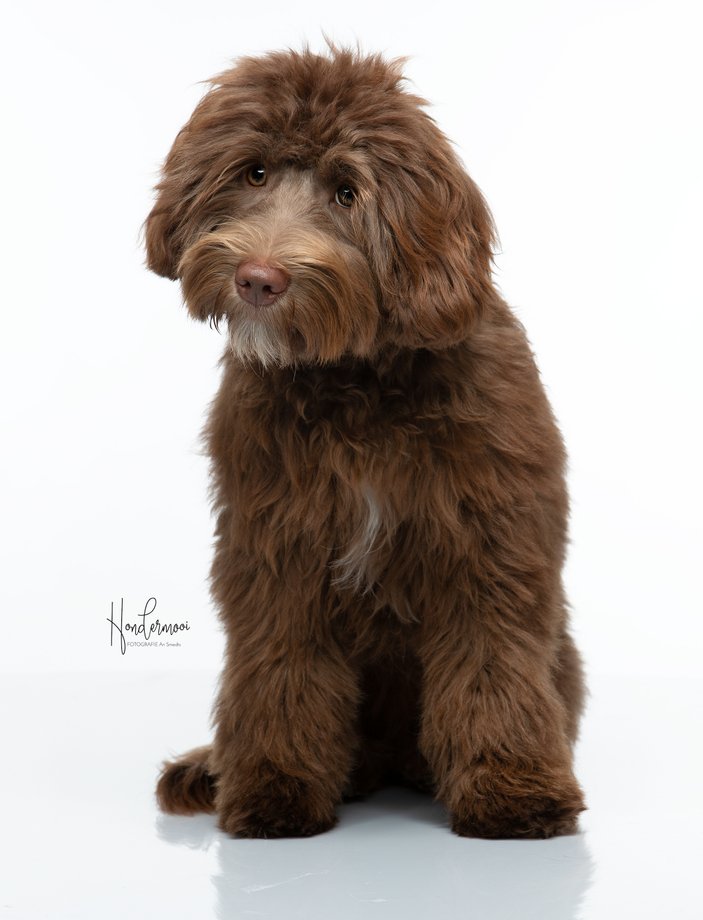 I've been looking forward to my 'Lady x Moo' puppy since August 2018, when Lady and Moo met for the first time ❤
I had a fancy parti coloured puppy in mind, with a unique look, but this plain brown one stole my heart. Since we strongly select on character and conformation (and health, needless to say), we held on to our principles when selecting this future breeding girl. She is AMAZING and I would like to thank Gabriela Maria Correll-Wick for the excellent job she did!
Swiss Mountain Lavender Brown is the very first puppy of Swiss Mountain Australian Cobberdogs' Harry Potter litter. I was there when Lady gave birth and I remember that this girl had a lighter brown patch under her tail, like Phantoms have. Now it looks like Moona will turn out parchment. Whatever colour she will be: she is beautiful and I love her to bits! Her eye contact is magical and her energy calming and serene. This is what we wanted in our mini line! Apart of an eminent character, Moona is really goodlooking and correct in conformation. Her coat is very light and will be easy to maintain. We could not have hoped for a better start!
The mini project
Our goal is to create a new European mini line, with the same type and character as the bigger sizes. The Harry Potter litter of Swiss Mountain was the first litter of our shared mini project. Lady and Moo did an excellent job, and so did Gabriela. Proud!