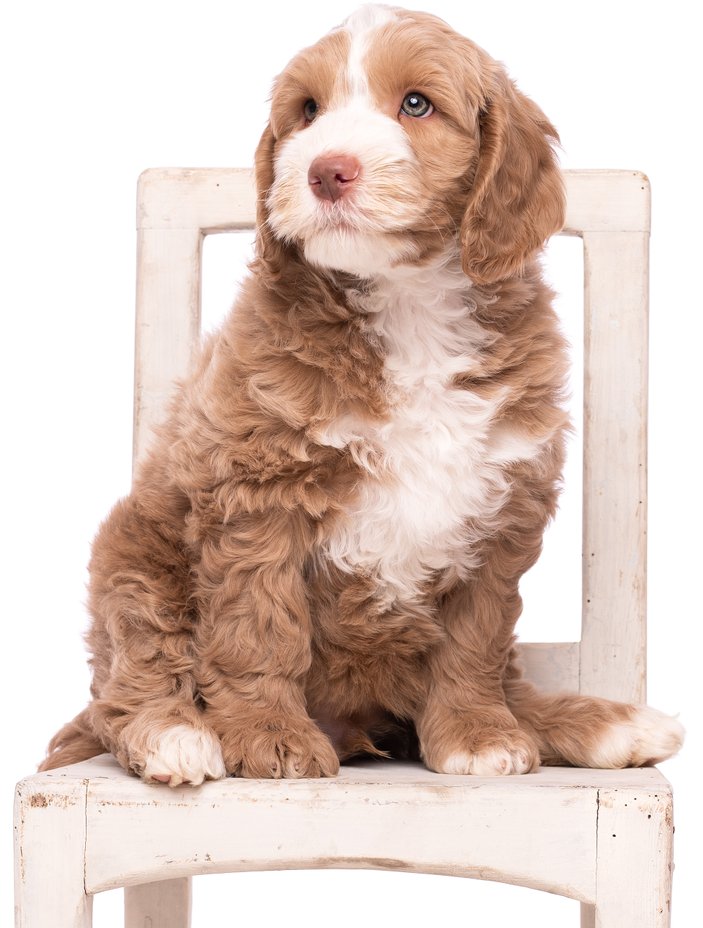 Some puppies are só special, you just have to keep them. This was the case with BamBam... Letting go of this beautiful and precious boy, would have been wrong in many ways. My friend Bea, Cobberdog breeder in the Netherlands, was very interested in a breeding prospect out of the litter of Belle and Moo, so we decided to keep BamBam together. He started his life as Baldr, but Bea came up with this cute and cool name, that fits him perfectly. So ta-da: our little rising star!
BamBam is Moo's first successor here in Europe. He is an F6 Cobberdog, which means six generations of Cobberdog ancestors. This number shows in both his appearance and character. BamBam is very focused on people, he loves to work and he is a bright little puppy. The world is his playground and he is almost stupidly brave. BamBam is very social and has a well developed EQ. This little guy knows what he wants and how to get it, but he also has an outstanding will to please. The combination of all these qualities, make him the perfect canine companion.
Selected for breeding; why?
BamBam is a perfect example of an F6 Cobberdog and can certainly leave his mark on the development of the breed, anno 2019-20. He has the character and temperament that we long for in the ACD, both his parents are healthy and sound (tested), he has a correct conformation and lots of charisma. BamBam is IC free, so also suitable for IC carriers. He has the potential to produce excellent family dogs, as well as therapy prospects.

BamBam is not available for stud service.