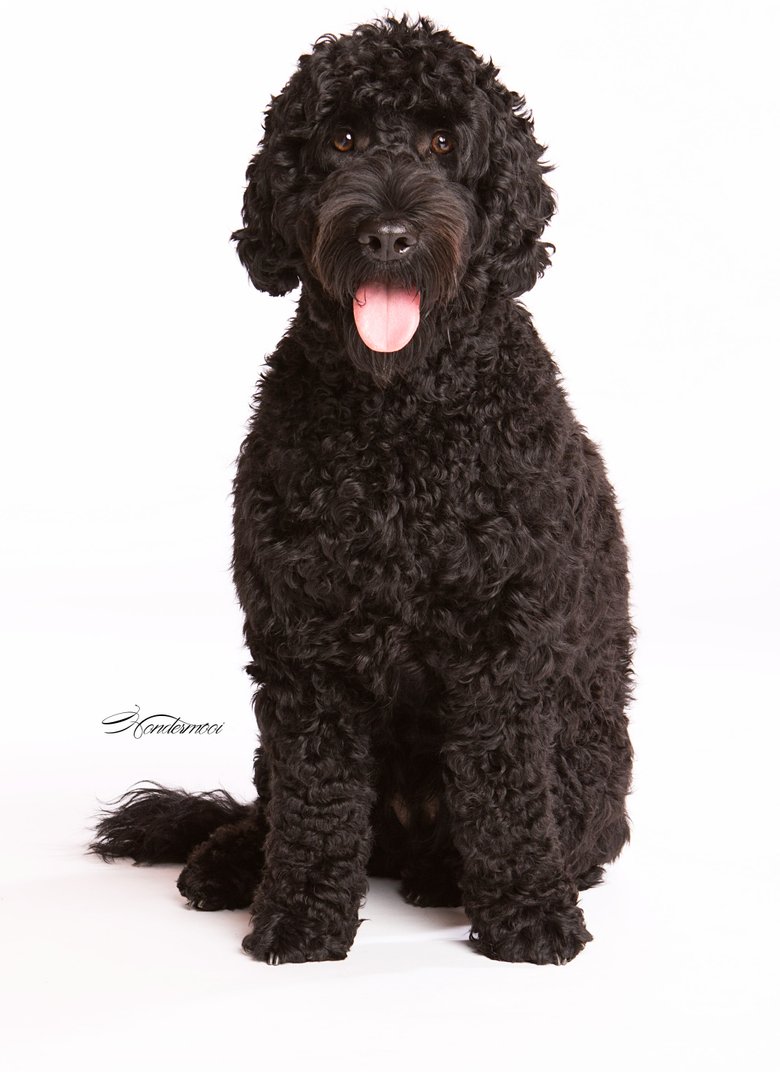 Belle... As I'm thinking how to discribe this precious girl, my heart gets warm and I immediately feel truly emotional. With her unbelievably sincere and mellow character, she gets me to the core. Belle overwhelms me with love and devotion and she's by far the most special dog I've ever had.
Paris Maléfique is our first Australian Cobberdog, meeting all our expectations! With her Raven black coat, she stood out from the start. Although we planned on getting a Red or Chocolate female, Maléfique made such a big impression, we just had to change our mind. Maléfique aced the puppytest and stole my heart during those 15 minutes. As if shé decided to choose ùs.
Maléfique adapted perfectly in our pack and grew up to be a beautiful Cobber. She meets the breeding standard in every way and she's the perfect example of a true Australian Cobberdog: born to serve, with the versatility and willingness to be everything I'd want her to be!
Retired from breeding

Belle gave us 3 wonderful litters and 3 gorgeous daughters to continue our Black Line.

My Dog Alice in Wonderland (Belle x Joep)
My Dog Babe made by Belle (Belle x Moo)
My Dog Elf paint Pink Black (Belle x Moo)
Therapy & Emotional Support Dog
Belle is a dog with a job. As a clinical psychologist, I work with therapy dogs. Belle is not only there for emotional support; she also works as a co-trainer with kids and families who need to build up their confidence, assertiveness or social skills. The Cobberdog is such a rewarding breed to work with and I feel blessed with a natural talent as Belle. She makes my job so much easier and even more fun to do. When she's not working as a therapy dog, Belle accompanies me wherever I go, as my personal Service Dog. She basically works 24/7, but she thinks she's just lucky to be with me all day. Want to know more about Therapy & Emotional Support Dogs?